We love events, they a fun and full on and an amazing chance to connect face to face. We love that we get to be part of that experience with you and your brand. Our rental pieces are designed for self set-up so if you are on a strict budget this could be the way to go. We are a 10 minute drive from the Westgate Bridge. Local pick up and return is available Tuesday to Friday. We are closed on Saturday, Sunday and Monday. 
You can save time and outsource delivery, set up, pack down and collection to our trusted team too. Let us do the logistics. Our Bump In and Out Service is available 7 Days a week. 
Below is a bunch more information on how to book, how bump in works with us, events we service, rates and terms.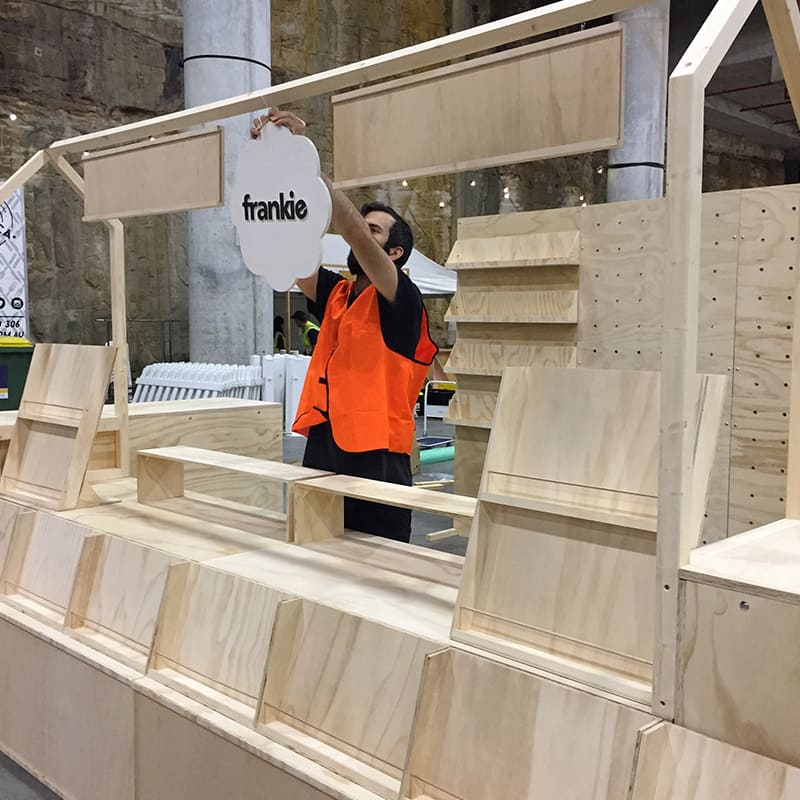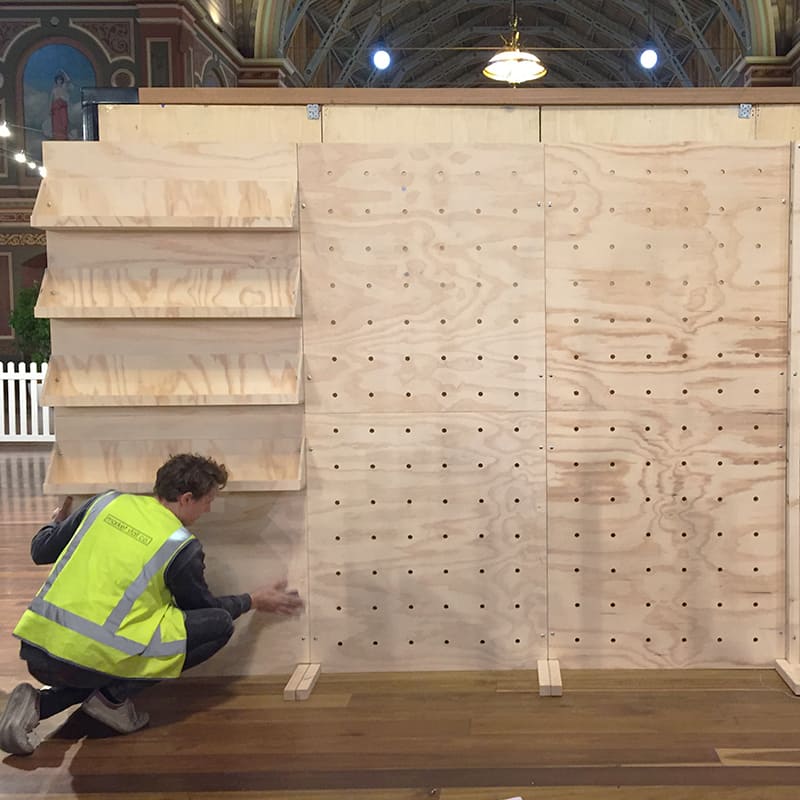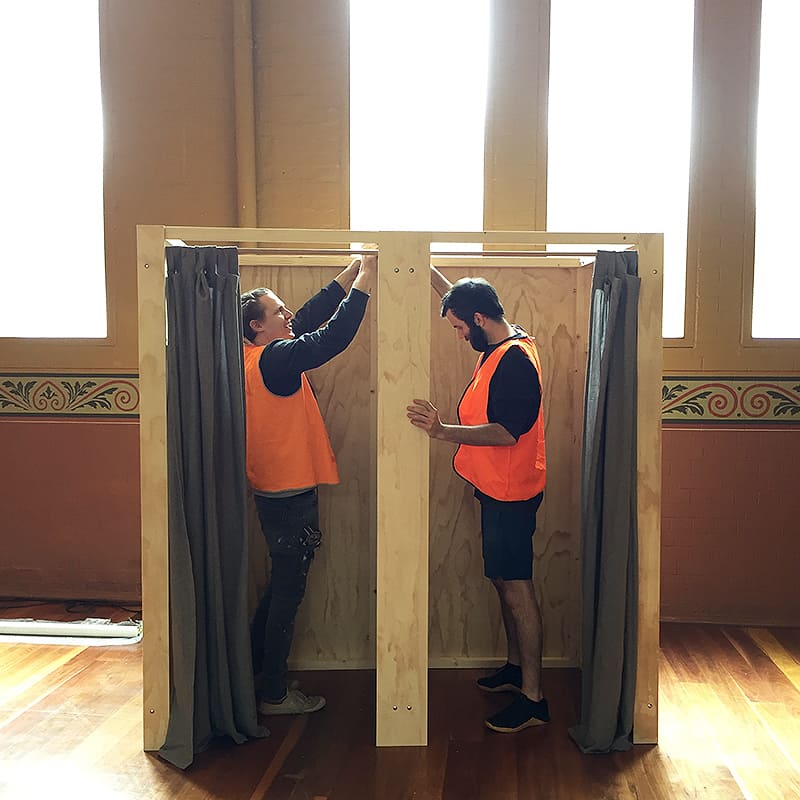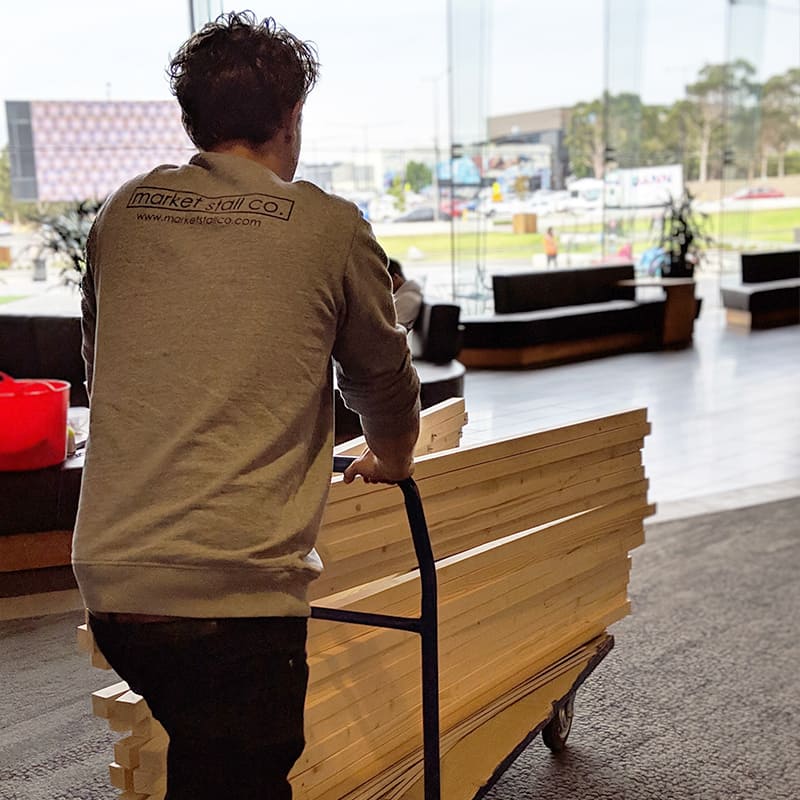 Often we can get access a little earlier than your allocated bump in time to help relieve loading bay pressure. After we arrive, your purchase or hired items are delivered to the allocated stall space.
After the items are dropped to each stall, if we have multiple bookings, we then have the team going around and setting everything up. We set up according to booking times allocated or at a timeframe previously discussed. Please share with us your intended time of arrival so we can try have everything ready to go before you arrive. If you have not shared a floorplan with us, we'll place where we think they work best unless otherwise advised.
We generally then try to take a picture of your set up and post to social media or send it to you via direct message.
Bump out happens in reverse, we'll pack down all items. You just need remove all stock, signage, bluetac, pegs and shelves etc from the display furniture and leave the stand setup. We come around to dissemble and will picking everything up following that. If you think it will take some time to remove your stock from the display furniture just let us know and we'll come around later in the evening or at an agreed time.
Select the item size/option you are after and choose the timeframe for hire. Day one is the day you'll be collecting and the last day will be the day you are returning to us.
Add your rental items to the cart.
Select your bump in option for delivery or choose local pick up and return.
Be sure to include the on site contact details for on the day and your stall/exhibit number or event location.
Agree to the rental terms and conditions.
Email us your floorplan or list in the notes within your order placements for the items. Remember you don't need to be on site for bump in with us.
Our Event Delivery Rates and Fees
Below is just a starting list of the events we support with bump in and out services. 
We happily service all Victorian events, especially Melbourne Metro based events. If you do not see your event or expo listed, get in touch so we can pop a quote together for you or just select the rate on the website according to location and volume of items. See our guide below.
Our rates are calculated factoring in time loading the truck, loading dock time, client management time on site at bump in/out, locating the actual spaces within venues and then unloading the truck back at the workshop. The transit time to the event is a minor element of the flat rates in our calculations, as is the costs associated with fuel and on road truck costs.
Victoria Combined Delivery, Setup, Packdown + Collection Rates (Exclusive of GST)
| | Melbourne Metro (up to 10km from CBD) | Greater Melbourne (11-50km from CBD) | Regional (51-100km from CBD) |
| --- | --- | --- | --- |
| | | | |
| | | | |
| | | | |
| | | | |
| | | | |
Please note Public Holidays attract a surcharge of x1.75 on the above rates. 
Deliveries completed prior to 9am and after 8pm will attract a x1.5 surcharge on the above rates. 
We recommend emailing us to book should this be something you are requiring, if you process a rental booking through the website the additional costs for bump in and out will be emailed via a separate invoice.
Sydney Major Events Combined Delivery, Setup, Packdown + Collection Rates (Exclusive of GST)
| | Life InStyle / Reed Sydney | | | | | |
| --- | --- | --- | --- | --- | --- | --- |
| | | | | | | |
| | | | | | | |
| | | | | | | |
| | | | | | | |
| | | | | | | |
Rental terms and conditions
Never fun things but here are our rental terms. By making a rental booking you are agreeing to these terms
Reasonable wear and tear is acceptable.
Water or liquids are not to be placed directly onto raw plywood. This includes rain. Items are not to be placed onto damp surfaces.
All bluetac, velcro and decals must be removed prior to collection/return. Failure to remove from the unit will incur a $30 charge to be paid within 7 days of returning the hire.
All pegs and shelves must be removed from the pegboards by the client prior to market stall co arrival.
Dents and stains will incur a damage/loss fee of $80 to be paid within 7 days of returning the hire.
Breakages and missing items will result in the full retail value cost of the item being invoiced due to replacement requirements in addition to the hire charges already paid.
Failure to return on time will result in an additional one-day charge for each day overdue. returns 5 or more days late will result in the full retail price for the item being charged, in addition to the rental charges already paid.
Cancellations made 14 days or more prior to the booking will receive a refund or credit for a future hire booking, less a $150 administration fee. Cancellations made inside of this timeframe will not be refunded or credited. Strictly no exceptions.
Coronavirus event cancellations are bound by the same terms as listed above. Cancellations made 13 days or less from the collection/delivery date will not be refunded.