Our pegboard range has been developed and tried and tested since the very beginning of Market Stall Co. Pegboards are the perfect addition to any space to give you a truly flexible display opportunity.
Include them in the floorplan for retail spaces, at markets, events, in an office or in the home, kids' room or hallway. Wherever you need more storage, more display space or more shelving is where you can use the flexibility of a pegboard.
Our pegboards and retail and event pegboard based infrastructure range can be viewed below.
Freestanding Boxed Pegboard Wall
Our solution to a Freestanding Boxed Pegboard Wall, without protruding feet and the option to be enclosed for storage.The Freestanding Boxed Pegboard Wall is a double sided wall, complete with internal space for storage and freestanding stability. You can choose to have the sided enclosed with or without a door for storage access or to keep them open and opt to not have ends included.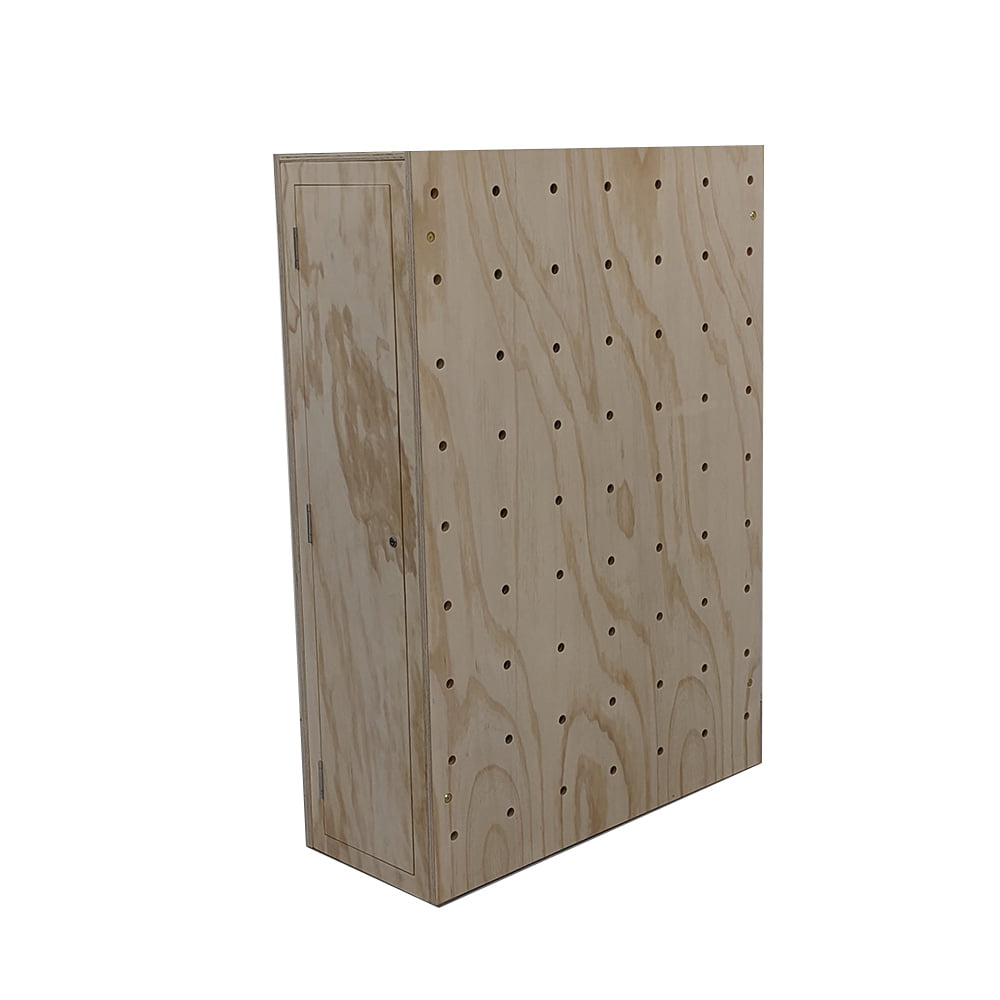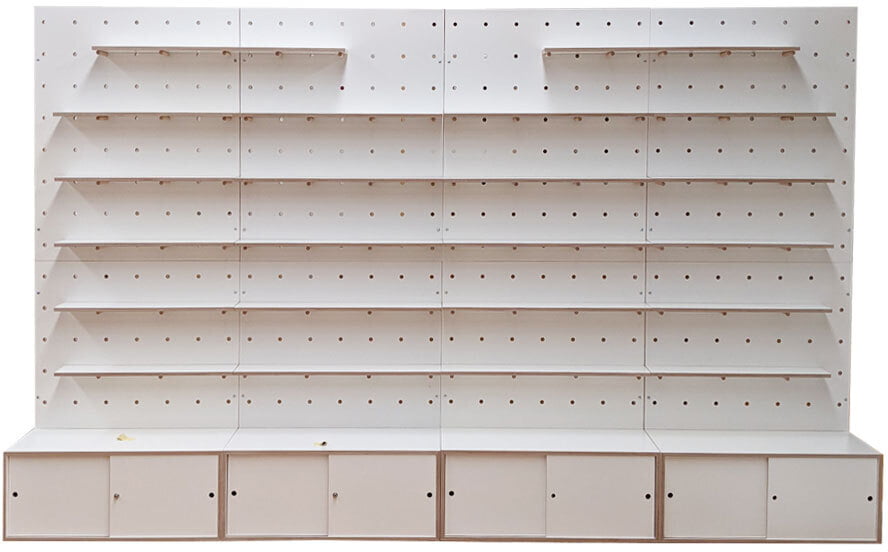 A great freestanding option with no lost space behind the unit. The base cabinet comes with a push lock and sliding doors for secure storage. A favourite for tradeshows, pop shops and permanent retail spaces.
Double Sided Freestanding Pegboards
The double sided freestanding pegboard is a premium freestanding option for those who want to utilise both sides of the stand. This piece is perfect for shop windows, for use as a divider or wall, or be featured at the front of a walk in market space or pop up shop. With connector bolts as the main hardware for the unit, this piece is also ideal for shopping centre activations and casual mall leasing spaces.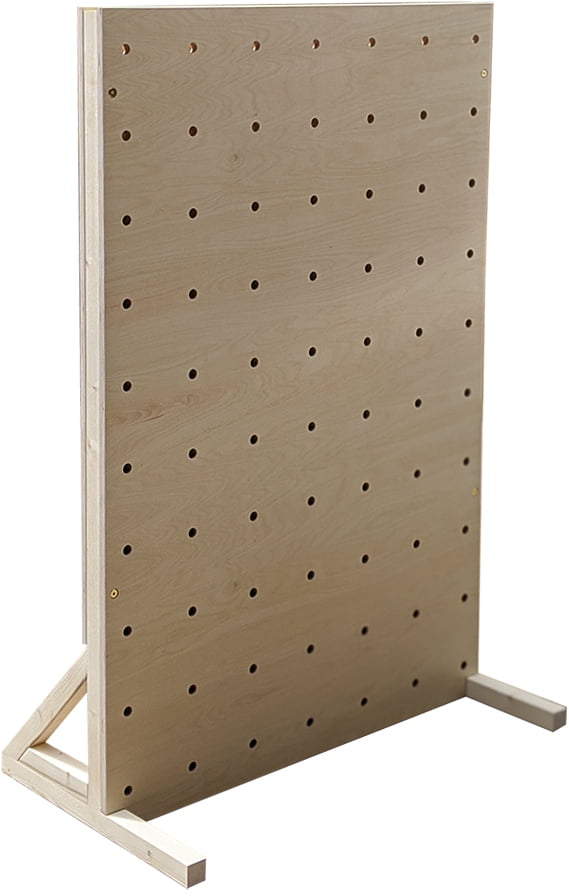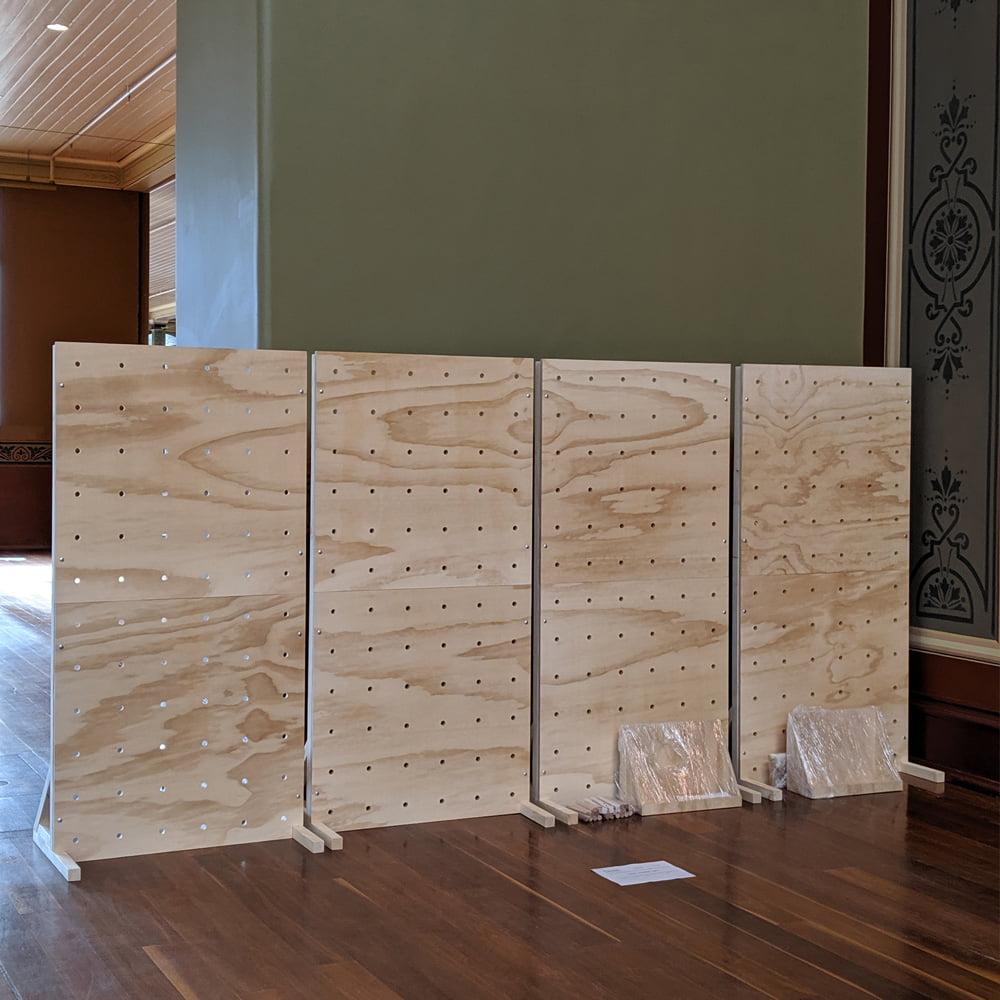 These guys flatpack down and set up quickly. Perfect as a walling alternative or a room/space divider. They come in a raw plywood, white or black finish. Add wheels to manoeuvre them around.
A flat pegboard sheet ready to be used however you see best. use our z-clip system to attach to wall, screw directly onto a wall or surface or lean them against a wall. Raw plywood, white, or black film coated plywood finish are the standard options. Contact us for a quote on custom stains or other colours.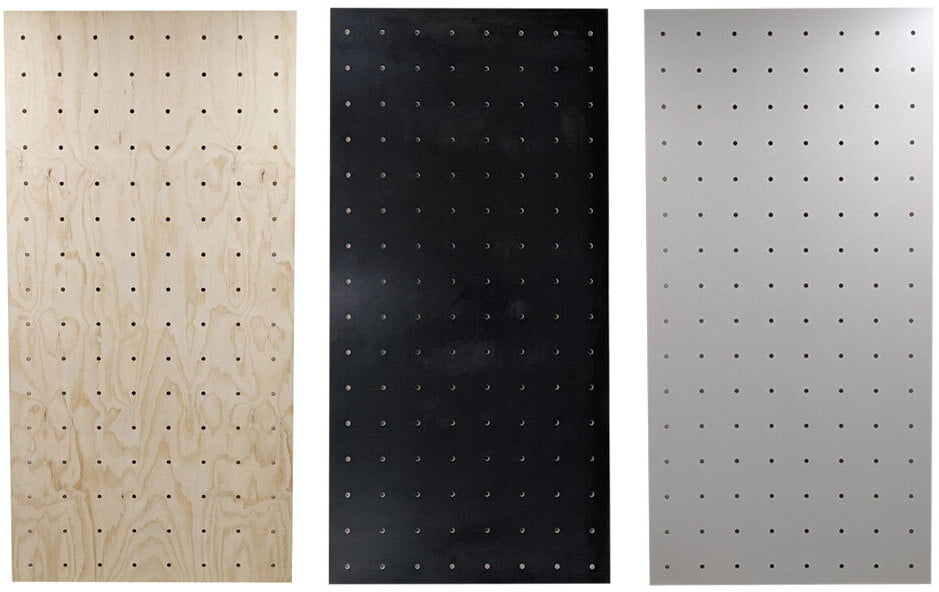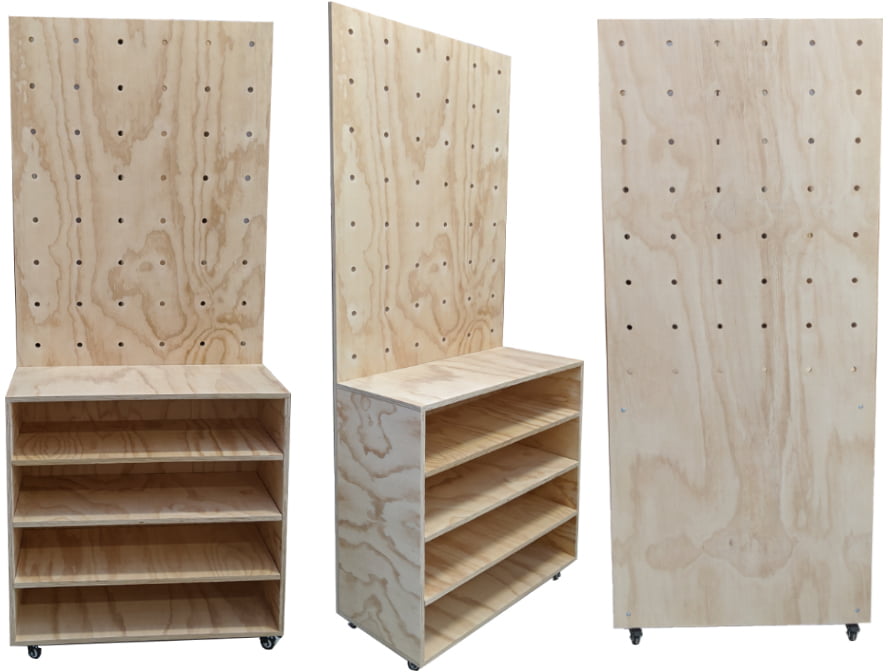 Freestanding Pegboard Shelving Unit
This unit design combines our plywood box shelves and classic pegboard into one movable display piece. The pegboard is completely removable as well should you just like to use the shelves on their own for a period of time too. Easy stationary open storage or shop shelving and display.
Market Stall Co has years of experience customising pegboards to a wide range of retail requirements. We can create pegboards to any size up to 120cm x 240cm with hole diameters ranging from 6mm to 28mm and hole frequency from 2.5cm. Send us through your specifications to inf0@marketstallco.com.au or fill out our online form and we will be happy to provide a quotation. Customisation fees apply.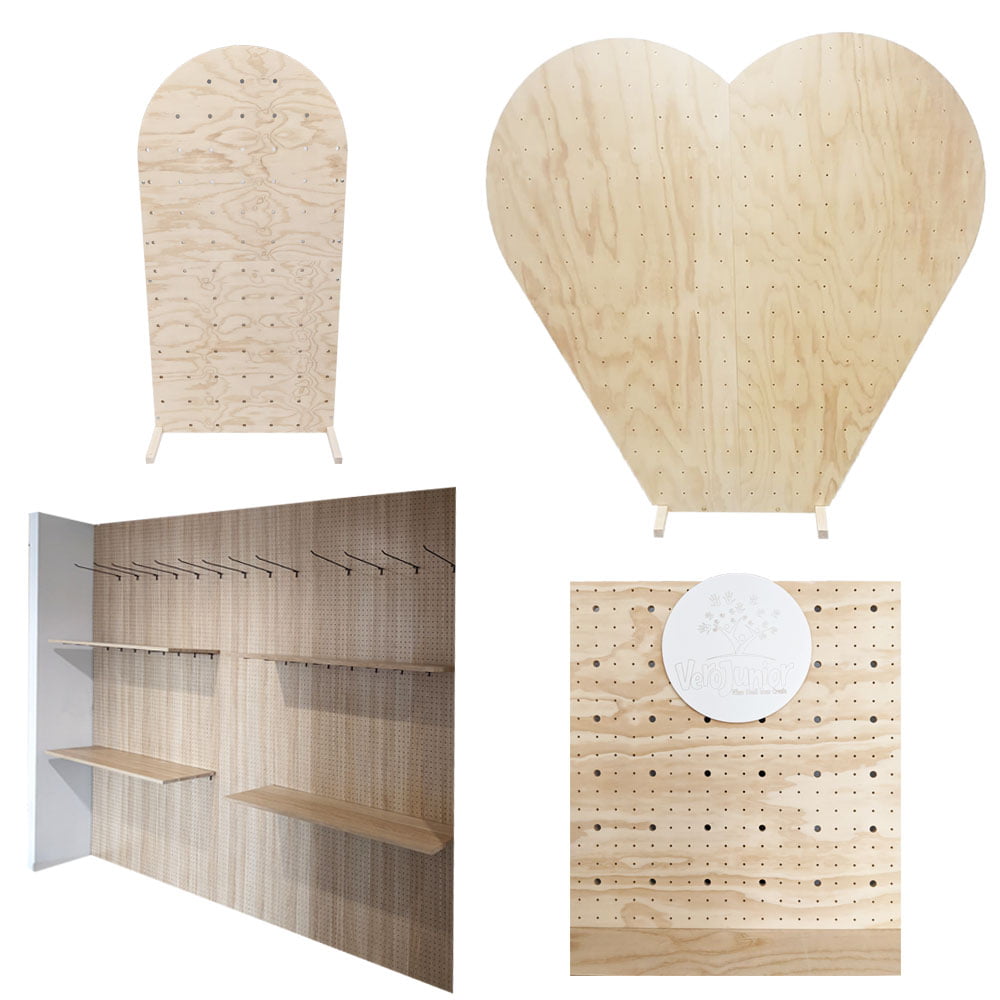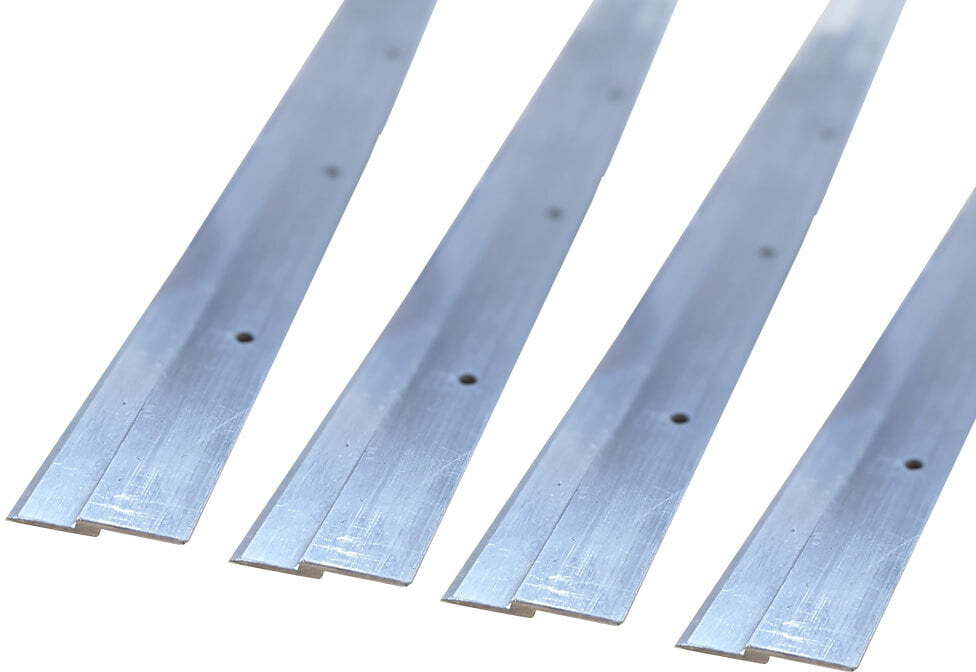 Using our pegboard sheet combined with a z clip system that is easy to install and hides the fixings so all you see is beautiful pegboard. Raw plywood, white or black film coated plywood finish are the standard options. Contact us for a quote on custom stains or other colours.
Accessorise your pegboards
Our range of different styles of pegs, pegboard rungs and shelf styles will allow to you create the display and shelving space of your dreams. Choose from many difference sizes and types to suit your styling requirements.
Prefer to hire rather than purchase? We've got you covered.
Hire freestanding pegboards and accessories for your next event, pop up and market. Hire is available in Victoria and for specific interstate events by arrangement.