Achieving a High-End Look with Plywood
When it comes to interior design, plywood can be categorised as only a budget-friendly material. But that doesn't mean you should worry you'll end up with a cheap look. Plywood comes in all different grades and finishes. Yes, it can be incredibly cost effective but equally plywood such as a birch plywood and hardwood plywoods can be in the upper range when it comes to material costs. With the right design and styling, plywood can offer a high-end aesthetic that is both modern and warm. Here are some tips and considerations for getting the best results from plywood: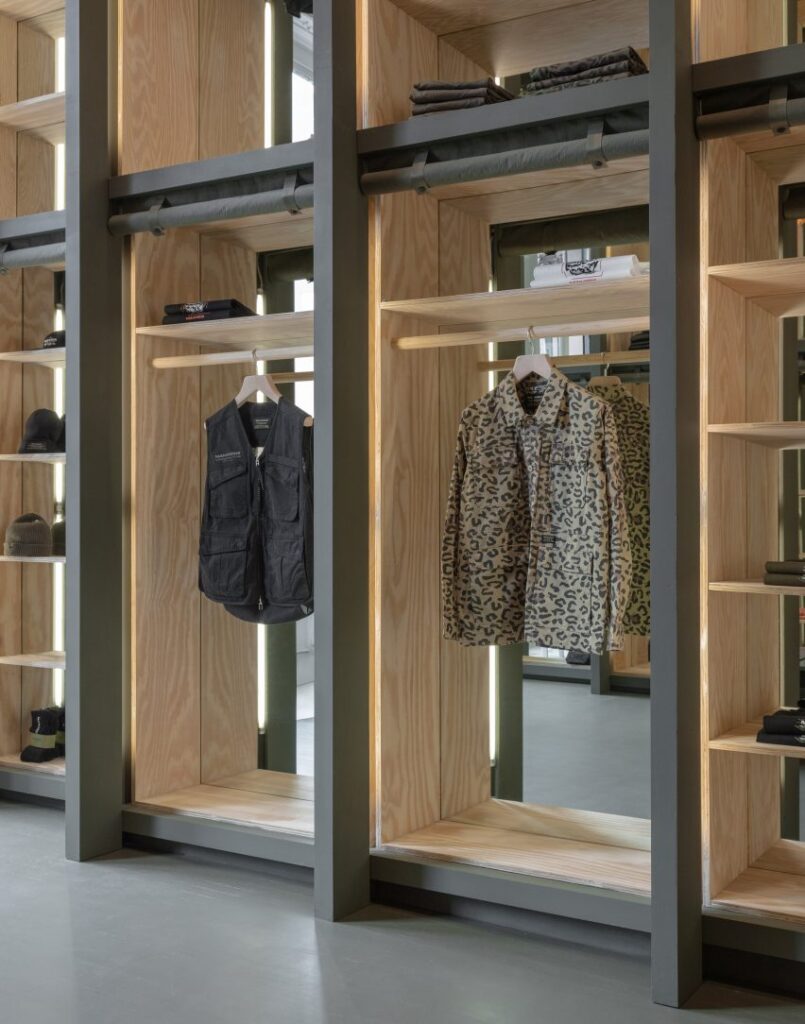 Visual Aesthetic
Plywood has a unique visual aesthetic that can add warmth and texture to a space. The natural grain and colour variations of plywood can create a sense of depth and richness that is difficult to achieve with other materials. 
Additionally, the clean lines and simplicity of plywood can create a modern and sophisticated look.
A perfect example of this can be seen in this incredible New York fitout for Maharishi on Dezeen. Click here to read more. Photography is by Naho Kubota
Film Coated Plywoods
One way to elevate the look of plywood is by using film-coated plywoods. These plywoods have a thin layer of decorative film/laminate/melamine applied to the surface, which can mimic the look of natural wood or other materials such as marble or concrete. This can add a high-end look to plywood while still maintaining its affordability.
Part of the beauty of this finish is the linework that plywood offers on the edges. A beautiful design detail that can elongate a piece, add warm and texture.
Choosing to incorporate film-coated plywood into your set up can be perfect to incorporate colour and create a visual break from a timber only look.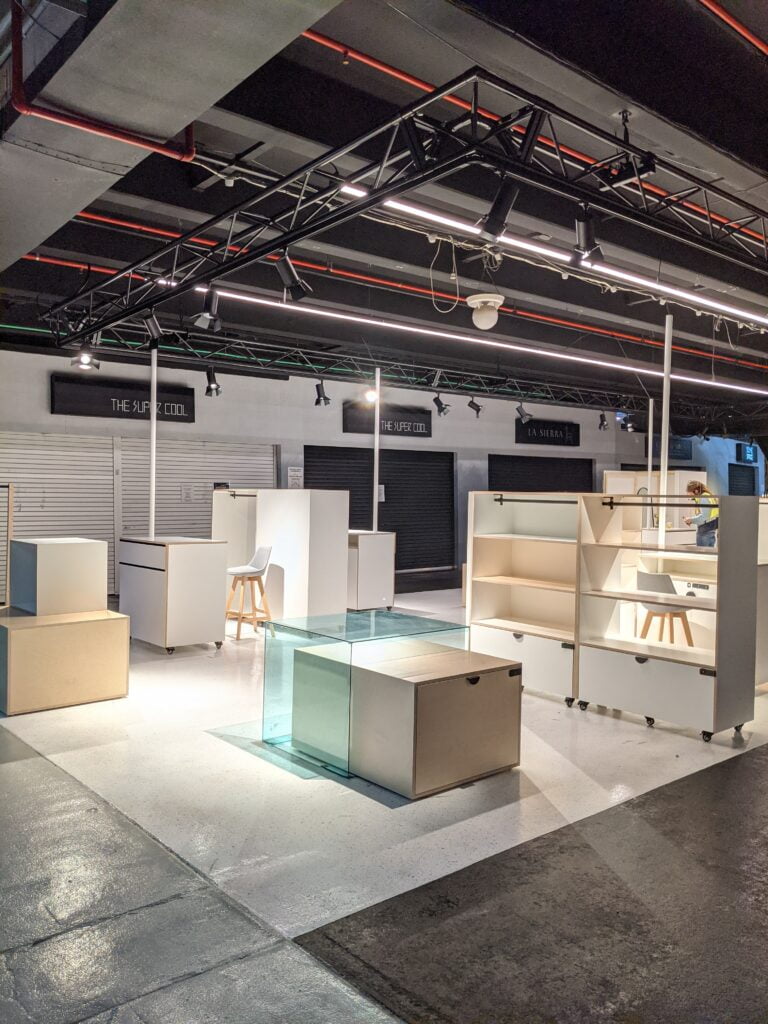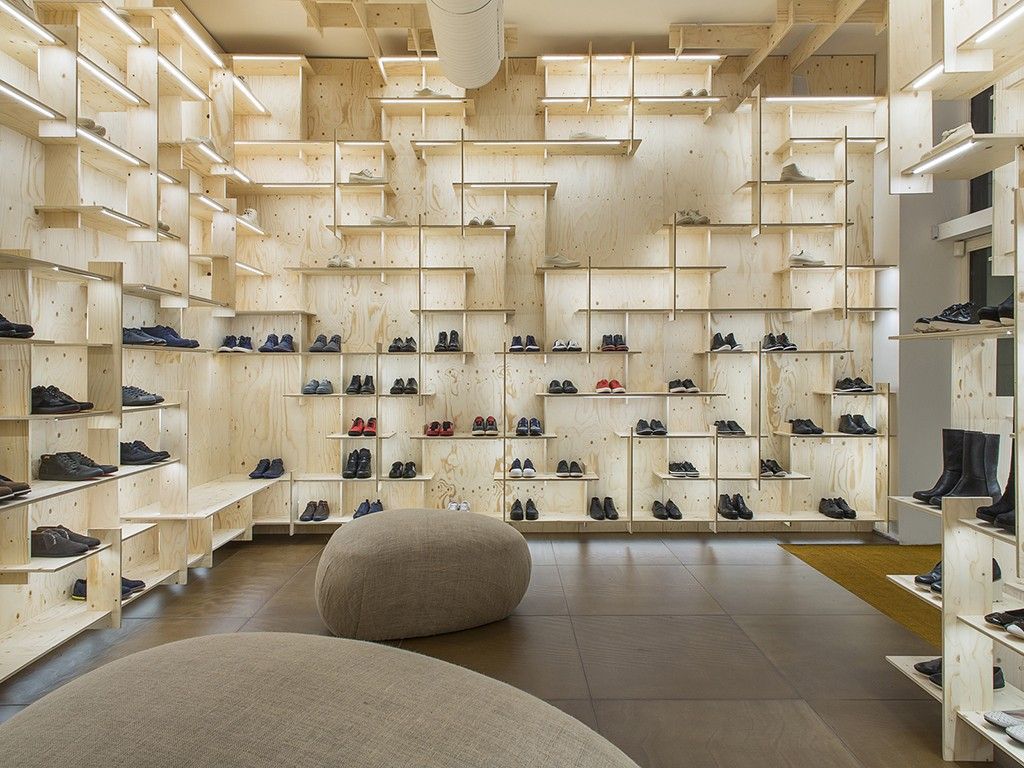 Different Grades and Finishes
Plywood comes in different grades and finishes, which can affect its appearance and quality. Higher grades of plywood have fewer knots and imperfections, which can create a more polished look. Additionally, different finishes such as matte or gloss can add a different texture and sheen to the plywood.
Some plywoods are graded with two letters. The first letter identifying the grade of the face or front. The second letter refers to the back. AC Plywood is an A-grade front face and so the back is a C grade.
A-grade plywood is the highest quality. Little to no major markings, much smoother and easiest to paint.
B-grade plywood can have minor flaws which for furniture production can mean additional filling and sanding time.
C-grade plywood generally visible markings and knots. This can be a look but is generally best used internally for furniture.
D-grade plywood is usually the cheapest plywood in the market and not something we use. It can have quite large knots up to 7 centimeters in diameter.
Grading for hardwood plywood is a complete other categorisation and is a letter and number system.
The image is of a Camper store. Here we can see knots in the plywood which is likely a C-grade plywood. The finish and lighting design creates a polished, intentional look with this plywood choice.
Different Styles
Plywood can be used to achieve different styles, from a Japandi to scandi, modern, and minimal. Use plywood for a warm and cozy look, or create a country feel. 
Not heard of Japandi before? This style combines Japanese and Scandinavian design elements, creating a minimalist and natural look. 
Pair plywood with other natural materials for a textured, luxe finish.
Incorporating plywoods into most styles can be achieved. It is a great base material or can be considered the star.
We love this design for Malin and Goetz. The combination of open shelving and uniformity of the size of the compartments create a calm display opportunity.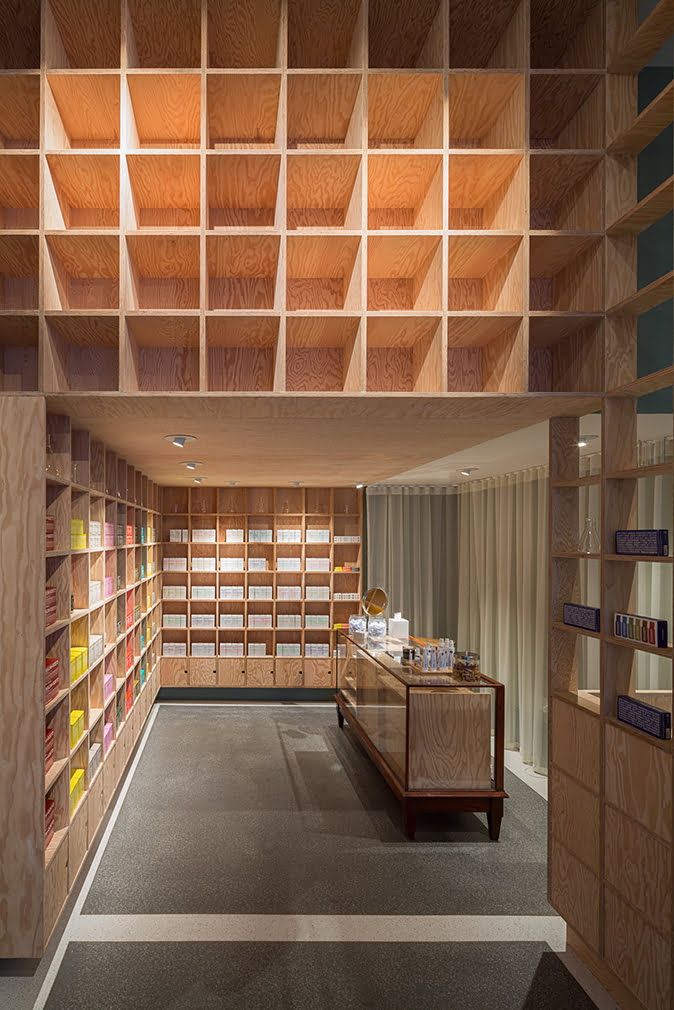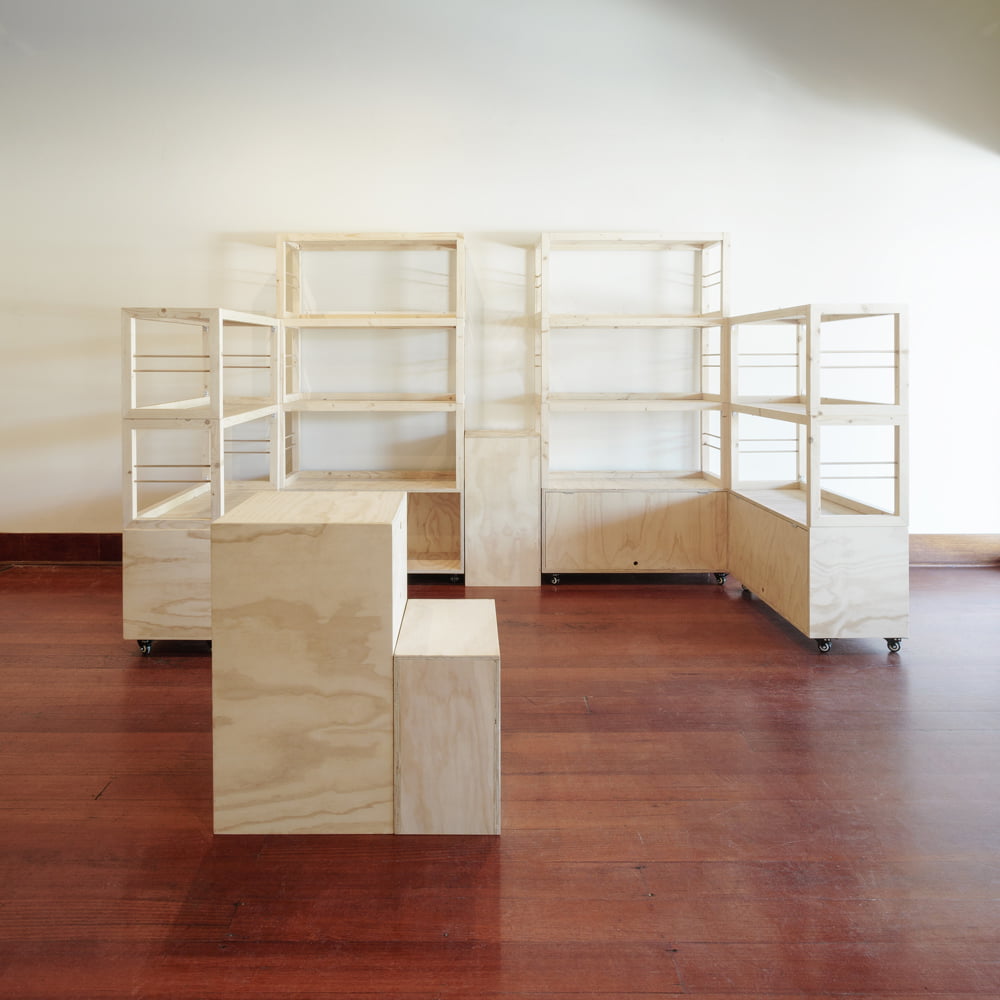 Freestanding Fixtures
When using plywood in a space, consider incorporating freestanding fixtures alone or a combination with built-in items. 
This can create a more flexible and adaptable space, allowing you to easily rearrange and update your display. 
Additionally, freestanding fixtures can add a sculptural element to the space, creating a high-end look.
Examples of Amazing Fitouts
Many brands have used plywood in their fitouts to create a high-end look. For example, Aesop, the skincare brand, has used plywood in their stores to create a warm and inviting atmosphere. Another example is the restaurant Noma in Copenhagen, which used plywood to create a minimalist and modern space.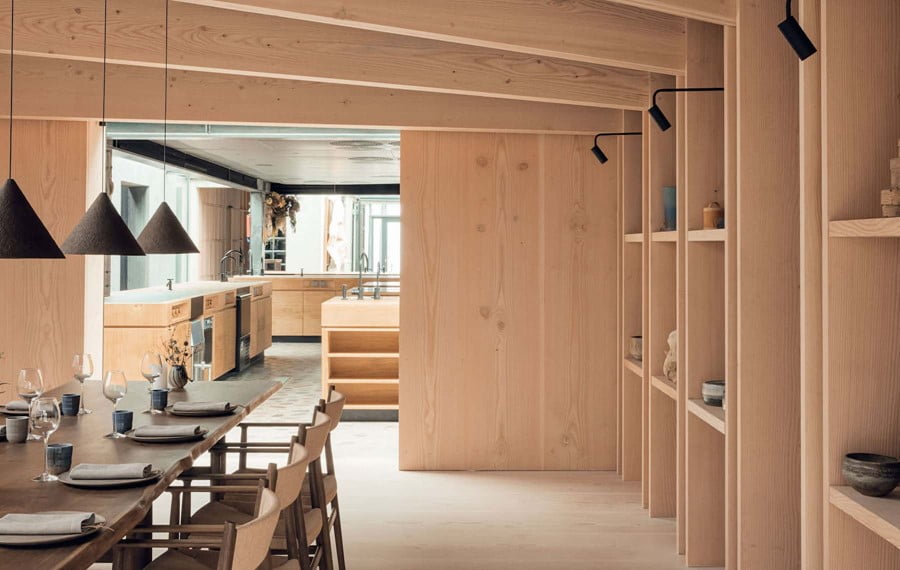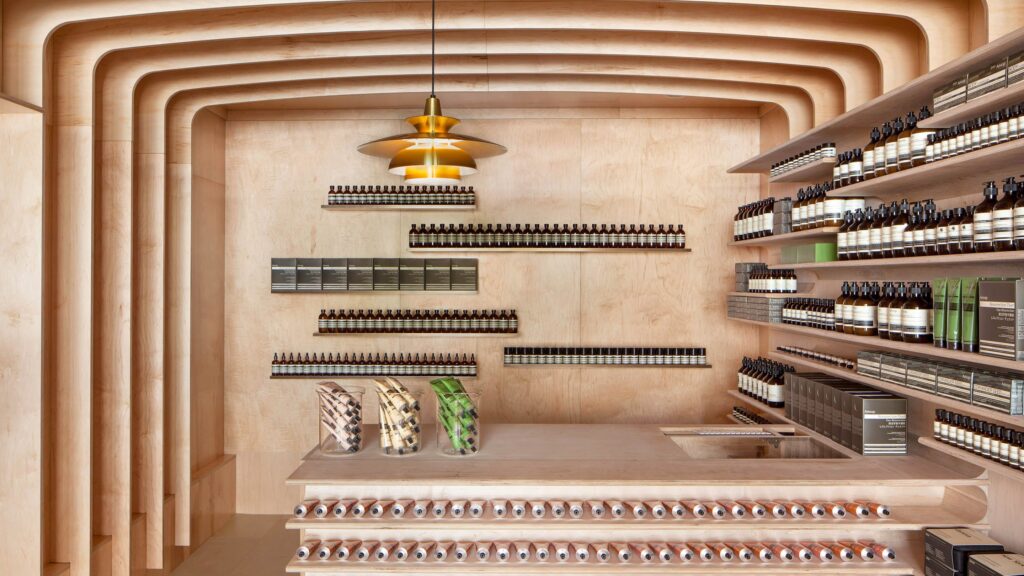 Endless possibilities
Plywood can be a budget-friendly material that can offer a high-end aesthetic when used correctly. By considering film-coated plywoods, different grades, and finishes, and incorporating freestanding fixtures, you can create a modern and sophisticated look with plywood. Look to brands such as Aesop and Noma for inspiration and consider different styles when making your selections. With plywood, the possibilities are endless.
VIEW PRODUCTS FOR PURCHASE
(Click to be taken to the product pages)