Apparel, Apparel and More Apparel
Our range has expanded (and will continue to) to further service apparel brands and retail spaces .
Hanging, Rolling, Wall Mounted, Flatpack-able, Fixed;

Find the perfect apparel support piece in our range.
Selecting the right pieces to support apparel on display and showcase stock is key for customers to shop effectively and for you to merchandise collections to their full potential. 
Displaying the range, creating the story is so important to ensure the season is presented with maximum sales potential.
When was the last time you reviewed your layout, display units, hot and cold zones, whether forward facing or lined up on a rack is the best for your apparel sales? Prior to each change of season, do an assessment and adjust/test changes. Before a new season drop is the perfect time to make sure you are ready, and have the right displays in place to accommodate the new arriving in stores.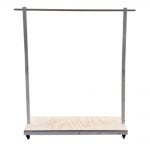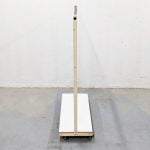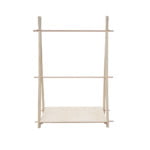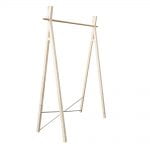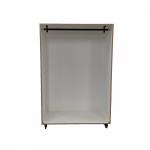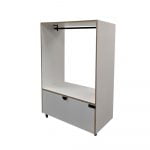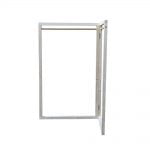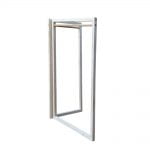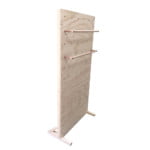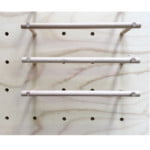 More and more we're seeing a trend toward a mix of predominately freestanding fixtures. We know we specialise in these, so it is natural for us to see the increase in uptake, but the commentary from clients is all about freestanding choices offering the flexibility to adjust to demand, changes in stock and to reduce on costs. Freestanding display infrastructure may see savings on installation costs and potential downtime that is usually allowed for that installation.
There will always be a place for wall fixed and overhead drop apparel displays. Gone are the days of completely slated walls. 
When we are seeing wall fixed units, they are more minimal, single rail wall mounts or utilising warm timber. 
If black or white options are selected, they are to create contrast and to further accentuate the aesthetic of the space. If considering wall mounted rails consider adding a shelf directly above to support additional folded stock, to showcase complimentary accessories or further demonstrate styling with brand images and props.
Remember, freestanding doesn't necessarily mean it needs to be in the middle aisle of the store, freestanding apparel display units can certainly be placed along walls and can create a great effect when they are. They are also perfect for window display infrastructure.
The ability to create front facing presentation opportunities that hold volume stock on rails is worth considering implementing into your floorplan or merchandising strategy when it comes to apparel and hanging items. It is almost like the exclamation mark of apparel displays. 
Front facing creates a moment to stop and pause at an item. This stop also allows a new start into a colour palette for the next space or opportunity to bring in an accessories display following, or shelving unit that will hold complimentary stock. We particularly love them placed just next to fitting rooms for a final grab and try invitation.
Our A-Frames give the chance to show off both a row of apparel but also front facing at the end. We love seeing our pegboards and button pegs also servicing front facing apparel merchandising and the pegboard rungs or any rail option in fact with coat hangers that can be turned to allow for front facing.
Be sure to include pauses in your apparel displays. Row and rows alone of hanging apparel can result in a fatigued shopper so be sure to give that side filtering a break and offer front facing and shelving viewing as well.